Important Dates to Remember
May 1: Chapel Health Emphasis
May 1-5: Teacher Appreciation Week
May 5: Donut Mess with Moms 7:30am
May 8: Chapel Pastor Lambert (Upland Community SDA)
May 8: Map Testing Begins
May 15: Chapel Pastor Angel (North Hills SDA)
May 17: Small School Fun Day (La Sierra)
May 19: Beach Day/Vespers
May 21: Mrs. Vessels' Retirement Party 1:00pm @ SACS
May 22: Chapel Pastor Ahn (Ontario SDA)
May 22: ASB Speeches
May 26: LAST DAY for MAP
May 29: NO SCHOOL — Memorial Day
May 31: Kindergarten Graduation (5pm-7pm)
June 1: 8th Grade Graduation Practice (8am-11:30am) Minimum Day for 8th Grade
June 1: 8th Grade Graduation (6:30pm – 8:00pm)
June 2: LAST DAY OF SCHOOL CELEBRATION! (Awards Chapel, Announcement of
ASB Officers for 2023-2024, Art and Talent Show, School Picnic, Fun and Games, Waterslide, etc.)
I want to give a big shout out to the ASB for planning the field trip to the Aquarium of the Pacific. You will see some pictures below. We had a wonderful time making friends with the animals in the touch tanks, and also with each other!
Can you believe that we are almost at the end of the school year! All the end of the year activities are sure to keep us busy! Please take a close look at the "Important Dates to Remember" section below, as we want to make sure everyone is aware of the different things that are happening.
Thank you for those who pre-registered. It assures that your child will have a spot for next year. If you have not yet pre-registered, please come to the office and do that as soon as possible. Also, don't forget that if you tell a friend about our school and they sign up for next year, you will BOTH receive a scholarship!
Again, I want to thank each of you for choosing SACS. We love having you as part of our community!
Blessings!
Karen Dunbar, Principal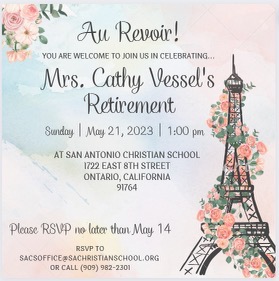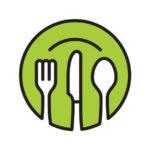 May 1st: Pizza
May 3rd:  Alfredo Pasta
May 8th:  Pizza
May 10th:  Spaghetti
May 15th:  Pizza
May 22nd:  Pizza
May 24th:  Haystacks
May 31st:  Cheeseburger
Shop, Scan Receipts, Support SACS!
Use your weekly grocery receipts to help earn funds for SACS.
Simply download the Box Tops for Education app on you smart phone.
Find a School: select "

San Antonio Christian School

".
Complete your profile account with referral code: R15S7L9C.
Scan and submit your receipts within 14 days of purchase.
Earn points!


SACS thanks you for your support!