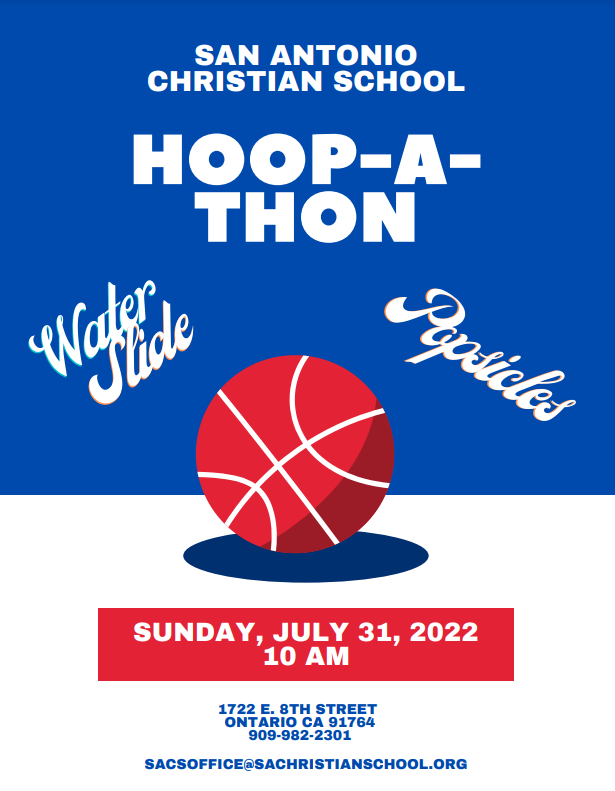 Start practice shooting hoops at home!
This event is designed to help students fundraise for their Christian Education.
Swing by the office beginning July 6, 2022 to pick up a Hoop-A-Thon packet or download flyer and pledge form below.
Office hours: Monday through Thursday from 9am to 4pm.
In the packet you will find a
Hoop-A-Thon flyer to share with your friends, family, and neighbors

Hoop-A-Thon pledge sheet to track all your fund raising

Pledge envelope to collect all funds earned and return to the SACS office to receive credit.
How the Hoop-A-Thon works:
Students gather pledges for either a dollar amount per basket made on July 31 or a flat pledge.

Each student will have 2 minutes to make as many baskets as possible. Hoops used will depend on students grade, please see below.

Once the student makes as many baskets as able to, they will collect their pledge funds in the form of cash or checks made out to San Antonio Christian School and return them in the provided envelope with the students name and grade in order to receive credit. Sponsors who wish to use credit/debit cards may call the office to do so. Please make sure they specify which child they are sponsoring.
Bring your friends and family for support and enjoy the waterslide and popsicles. Don't forget your swim suit and towel!