Welcome Back!
Hello SACS Families,
Welcome to all our new students, and welcome back to all who are returning! I hope you have all had a wonderful summer and are ready to start school this week!
Here is the first official WEEK AT A GLANCE:
Monday, 8/15: Get School Supplies (Supply List Attached)
Tuesday, 8/16: Back to School Orientation 4:30 pm
Wednesday, 8/17: School Begins @ 8:00! (Doors open at 7:15). Noon Dismissal.
Thursday – Friday, 8/18-8/19: Noon Dismissal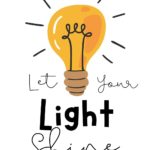 Let it Shine!
The theme for this year is "Let it Shine!" We hope that you become closer to Jesus this year and let the light of His love shine for others to see.
Health News
As we begin our school year, it is important to start healthy! Although COVID protocols have eased, please refer to the attached information as we try to keep our campus as safe as possible.